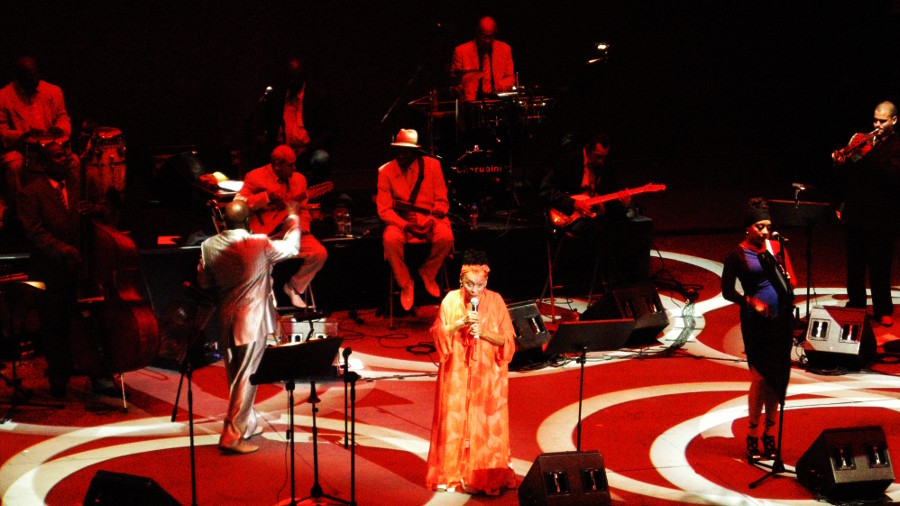 What can one say about Cuban music? The island's rhythms are as closely identified with Cuba as are its sugar, rum, cigars and palm trees. This play list is based on some of the songs which formed an inspiring soundtrack for chronicling Mercedes' Havana days. While some of these songs are quite well known, I have tried to provide some chronological progression and reflect the changes in Cuban music over the years.
The first track is from the Columbia Records archives, recorded in 1919 – and it sounds incredibly simple compared to later artists and arrangements. One of the best known names in Cuban music, Celia Cruz, appears over and over for the simple reason that her career spanned many decades from the late 1940s until her death in 2003.
Lagrimas Negras (Black Tears) was originally composed in 1929, but has been performed over and over by countless artists. I even found the lyrics written in an old notebook of mother's – a typical teenage passion across the years it seems. Angelitos Negros, sung with the amazing coloratura soprano of Xiomara Alfaro, has startling relevant lyrics decrying racism. Based on a poem (Píntame Angelitos Negros) by the (white) Venezuelan poet and politician Andrés Eloy Blanco, the singer asks a painter to depict black angels churches, even if the Virgin is white – because he never includes them.
There are some links, as ever, to Mercedes. The afro-cuban infused jazz of Cuban Blues by Chico O'Farrill (as well as his orchestra in Xiomara Alfaro's Angelitos Negros) is a direct connection. Both Chico and Mercedes are descendents of Juan José O'Farrill and his wife, Luisa Herrera (better known as Mercedes' great-grandmother, Mamita). Maybe musical talent runs in the family?
90 Millas (90 Miles) and Por Si Acaso No Regreso (In Case I Don't Return) both evoke the spirit of exile. Gloria Estefan calls on the African deities of Santeria to help Cuba while Celia declares her love for the homeland that she always thought she would see again. Mercedes would have understood both sentiments and shared their longing. Cuba Linda also contains these feelings – they will always remember Cuba Linda… the song was used in the soundtrack for Andy Garcia's Lost City. Check out the YouTube video for an amazing performance.
The final track, the afro-funk La Habana Buena, really captures the feel of the city, the sea, the ships passing by the Malecón… – at least that's how it seems to me.
And if you noticed how many songs reference Havana or Cuba and declare it, Buena, Linda, Querida etc., no you are not crazy – Cubans are obsessed with their beautiful island!
Photo of Omara Portuondo & Orquesta Buena Vista Social Club  © Deborah Swain